Toyota Santa Maria Community & Employee Events
---
Why Buy From Toyota Santa Maria?
We are humble servants committed to serving our community. We do this by exceeding our customers' expectations in every way possible. We consistently give back to our community and support many of our local non-profits, schools, sports teams and community organizations. When you purchase or service your vehicle at Toyota Santa Maria you are keeping your tax dollars local and we will do our part to support your family and our  community!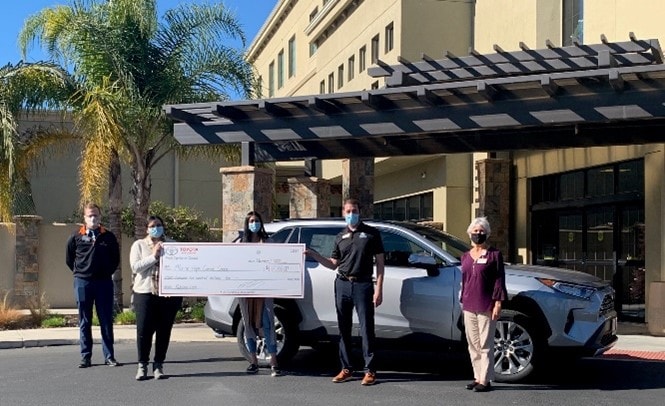 Pinktober Pumpkin Patch

---
Every year we host a donation only pumpkin patch in the month of October.
This patch is "Pink" themed in awareness of breast cancer.
All proceeds go to Marian Medical Foundation's "Mission Hope" cancer center.
Employees decorate all of the pumpkins in different thems (Pink, super heros, sports & cancer awareness).
In 2021 we raised $16,000 for Mission Hope Cancer Center. 
https://www.dignityhealth.org/central-coast/locations/marianregional/about-us/press-center/toyota-donates-to-mission-hope-cancer-center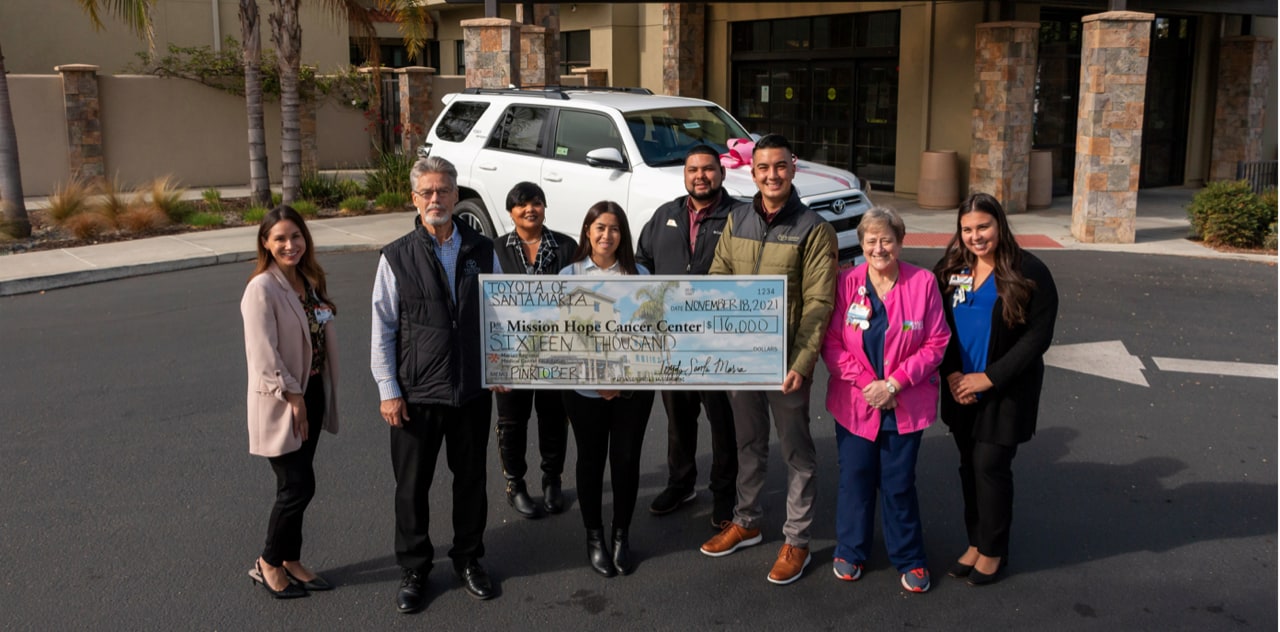 CASA Kids Christmas

---
Partnership with CASA (Court Appointed Special Advocates) to create a special Christmas for the CASA foster children.
Christmas Ornaments are hung at Toyota Santa Maria's Christmas Tree and the public can purchase gifts for the CASA children.
We provide Toyota Trucks to transport all gift donations.
When COVID threatened to cancel 2020's CASA kids Christmas, we hosted a "drive through kids Christmas" for all of the CASA kids at Toyota of Santa Maria.
Toyota employees dressed up as Santa, Snowmen, etc. and passed out bikes, presents and Toyota SWAG to all of the kids.
Trunk-or-Treat

---
Every year we host a Trunk or Treat Halloween event for our community.
This event  is free of charge.
In 2019 over 2,000 people attended! 
Vehicle "trunks" are decorated with a variety of Halloween Themes.
Craft tables including face painting and nail painting is set up for kids. 
Candy is passed out at the trunks of new Toyotas.
Santa Maria Police and Fire Departments also participate.
Hancock Promise

---
To celebrate the release of the new 2020 Supra, Toyota of Santa Maria donated $5000 from the purchase of the Limited Edition Supra Launch Edition to the Hancock Promise Foundation.
We also donated another $5000 in 2022 from the sale of our first 2022 Hybrid Tundra!
The Hancock Promise provides local high school graduates with a year of free tuition at Allan Hancock College! The Promise is open to all students who enroll at Hancock immediately after graduating from a high school located in the Allan Hancock Joint Community College District.
Benefits for students include: More than $1,200 in tuition and fees during first year at Allan Hancock College, early registration for classes, personalized counseling for academic success and free tutoring and other academic support services
For more information on the Hancock Promise please visit https://www.hancockcollege.edu/promise/index.php?locale=en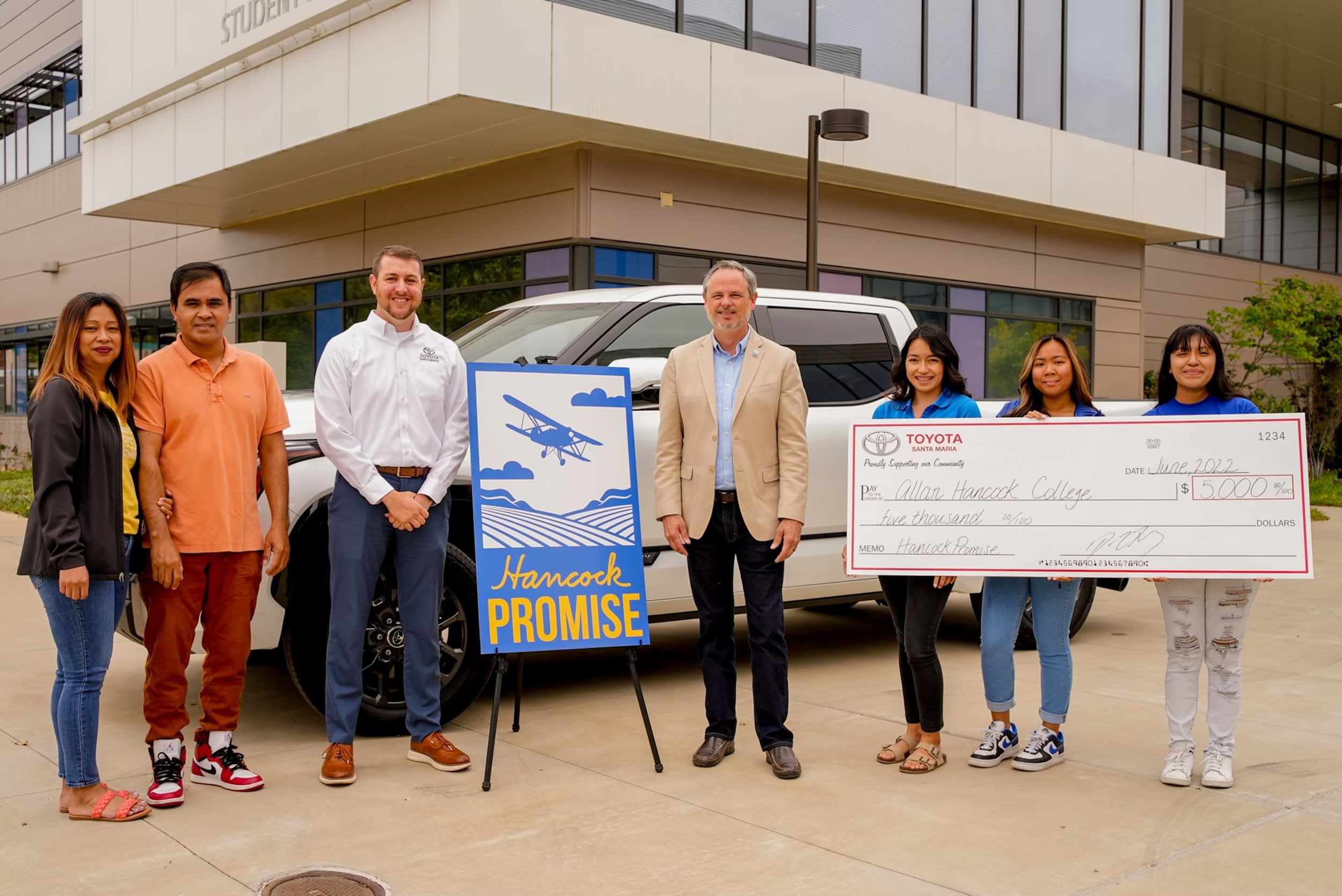 CASA Ducky Derby

---
This event was created by CASA (Court Appointed Special Advocates) as a fundraiser.
We were proud to be a major sponsor/ donor of this event. 
$110,000 raised by event in 2020
Toyota donated $5000 to the event.
In 2019 Toyota SM donated a 2 year lease on a Tacoma to the Ducky Derby Winner!
YMCA Christmas
---
Toyota Santa Maria partners with YMCA to provide Christmas gifts to their pre-school kids.
Toyota managers all participate and provide these gifts.
Associate dresses up as Santa and gifts get delivered in person to preschool.
S.O.S. Car Raffle - Support Our Schools
---
Car Raffle put together by the organization open to all public & private schools in the central coast.
Schools can sell raffle tickets for the grand prize of a $20,000 voucher towards the vehicle of their choice. 100% of the proceeds made goes directly to the schools that sell the tickets.
There are 7 dealerships participating, including Toyota Santa Maria. If chosen Toyota Santa Maria donated a vehicle to the winner.
Since 2006 a total of $1,911,355 has been raised for public and private high schools in our area
Toyota Summer Movie Nights
---
Toyota hosts summer movie nights at the dealership.
Drive in style movies are played on our rooftop deck.
All employees, friends, family & customers are invited to attend.
We provide, popcorn, hotdogs, nachos, candy and movie themed gift bags for the kids.
Toyota Santa Maria Kids Christmas

---
Every year we host a Christmas party just for kids of TSM associates.
Santa & Mrs. Clause show up and hand out presents to all of the children.
Christmas crafts and "do it yourself" ornaments are provided.
Great memories are made every year.
Last year we hosted a "drive through" kids Christmas party to keep the tradition alive during the COVID shutdown.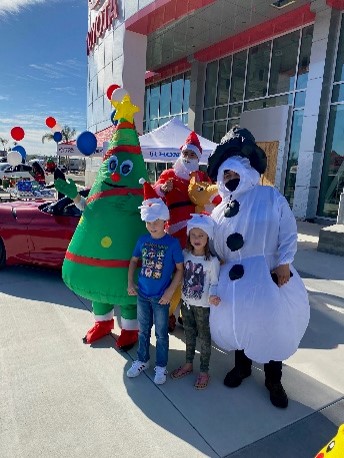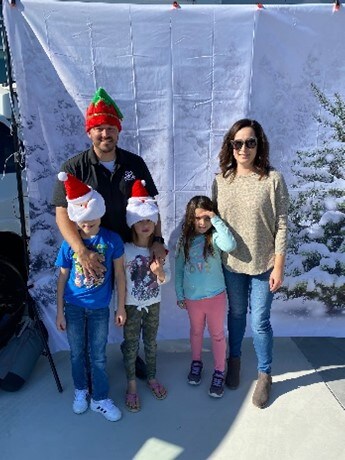 CALM: Ladies Get Loud

---
We are proud to have hosted CALM's signature event: "Ladies Get Loud" on our rooftop deck!
Just under $100,000 was raised at this event in 2022!
CALM has been a leader in developing a variety of trauma-informed, evidence-based programs and services that effectively treat child abuse and promote healing, as well as programs successful in preventing childhood trauma through family strengthening and support. Services are provided to all in both Spanish and English, at sliding scale or free of charge if needed; no one is turned away due to inability to pay. CALM continues to be the only non-profit in Santa Barbara County that specializes in the prevention and treatment of childhood trauma.
President's Award Celebration & Casino Night

---
Toyota Santa Maria is a 21X recipient of the prestigious Toyota President's Award for putting customers first!
Every year we celebrate this award by hosting a dinner and Casino Night themed celebration.
Dinner is provided to our team and gifts are raffled off to our team as a thank you for their hard work!
COMING SOON
COMING SOON
COMING SOON
COMING SOON
COMING SOON
COMING SOON
COMING SOON
COMING SOON